We would like to present you the new NetSuite 2022 Release 1 !
b.workshop has taken a detailed look at the Release Note's contents. Among the many new features that NetSuite brings us, we have decided in this article to explain the following improvements:
Paired Intercompany Transactions
Until now, you can only create a link between intercompany invoices and bills. With the NetSuite 2022 release 1, an intercompany Credit Memo can be linked to an intercompany Vendor Bill. The criteria for pairing intercompany transactions remain the same: subsidiary, entity, currency and document status (You cannot set an approved transaction to pending approval).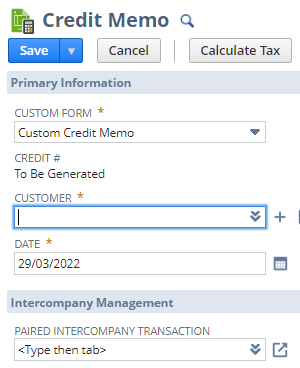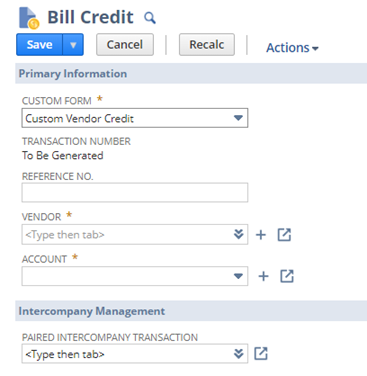 Project 360 is a new dashboard within NetSuite SuiteProject  to help project managers to deliver projects on time and on budget. The NetSuite 2022 release 1 brings together all aspects of a project in a single workspace by combining CRM/HR/FINANCE and SRP data. It offers a centralized view of KPIs, reports and planning of the project. This allows an optimization of the following points:
Project Budget Analysis: analyse spends and allocations and use the Project Forecast Estimate at Completion (EAC) to deliver the project in the original budget.
Project Billing: Show amount already bill and the amount remaining.
Project Profitability: the project profitability use the revenue recognition to determine if the project reach the planned profitability.
Project planning : Allow you to view the project team and time entered on the project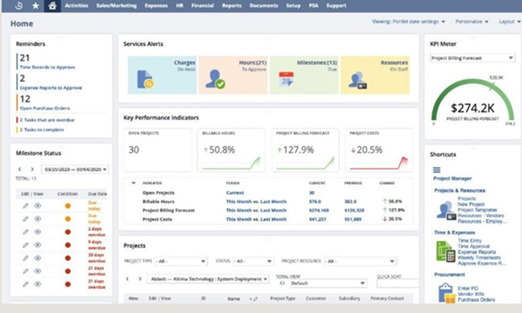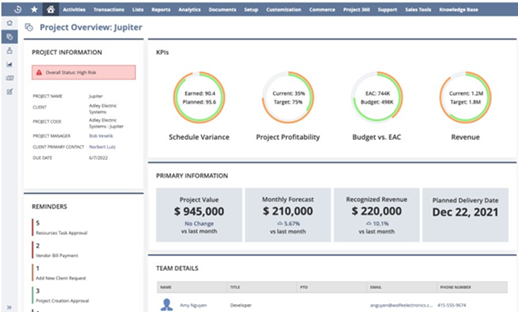 Warehouse Management and Manufacturing Mobile Enhancements
The NetSuite SCM Mobile application for WMS and Manufacturing Mobile allows operators to do many daily tasks direclty from the warehouse using their mobile phone. It allows to follow products life cycle by doing inventory transactions as receiving, producing, transfering and fulfilling items.
The NetSuite 2022 release 1 has simplified the application interface by adding new available information to display, by developing screens and transaction that are easier to use and to customize. It is now possible to:
Add custom column at tables line level (example: item description, custom field, etc.)
Fill automatically a value per default for any displayed field on the mobile application
Overconsume components when doing a Work Order Issue
NetSuite has launched a powerful tool in its latest release to efficiently support companies with complex shipping workflows. The pack station adds the following features
Consolidation of multiple shipments into one (e.g., one carton for multiple sales orders),
The concept of item ready to be shipped "as is" and that does not need to be packaged since it is already in a package ready to be shipped,
Management of packaging numbers (box, package), weight, volume,
Packaging by serial number / batch number
The possibility to quickly unpack cartons,
Management of shipping by pallets (management of pallet numbers and size)
All these features are of course available on the NetSuite Mobile App touch screen which allows remote users to manage these actions in a fast and efficient way.
NetSuite 2022 release 1 adds two additional features:
Mass packaging of "as is" shipped items
The ability to change units of measure
NetSuite's Quality Management module has continued to improve since its launch. There are many improvements that complete an already complete flow.
Indeed, for several months now, we have been able to use saved searches that include :
The totality of the results by inspection, by sample etc.
The yield rate by supplier, by lot and by article
However, the quality module was not yet complete since it was only based on transactions to trigger inspections.
The release 2022.1 expands the possibilities of this module since it is now possible to trigger inspections on demand!
To trigger them, you no longer need to rely on a transactional context, you can now :
Inspect an item before it is received
Inspect an item with different inspection criteria following a repair
And simply inspect an item at any time!