For most of us, the time to switch to the new NetSuite release 20.1 is approaching.
b.workshop looked in detail at the content of the Release Note and here are the topics that caught our attention:
The management of down payments from the order form
Your company would like to participate in a marketing event. During your exchanges with the person in charge of the show, he asks you to pay a deposit when you order.  
Since release 19.2, you can materialize this transaction in the form of a supplier deposit. However, it is not automatically linked to a transaction. It is at the time for invoice receipt that you must apply this deposit. In the new release, you will be able to create it directly from the order.
Automatic shipping request based on order dates
Some e-commerce companies allow their customers to order their products online and then retrieve them from the store. These flows are managed with Fulfillment Requests on NetSuite. They add an intermediate step between the Sales Order and the shipping transaction.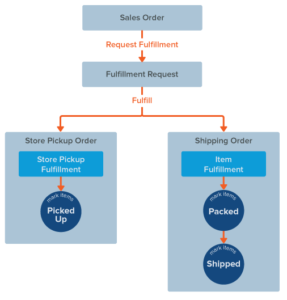 Before Release 20.1, Fulfillment Requests were automatically generated by the following events:
Sales Order Approval
Litigation payment lifted
Now, with Release 20.1 it is possible to create these transactions automatically using the Estimated Shipment Date recorded on the Sales Order.
The addition of personalized transactions on purchases and sales
Sometimes you may have to resort to types of transactions, purchases and/or sales, which do not exist as standard in NetSuite :
Proforma
Purchase Contract
Sale Contract
We then had to start from an unsuitable screen and make customizations. Despite our efforts, the customization was rarely in line with the company's expectations.
Release 20.1 now allows us to create personalized transactions such as purchases or sales. The screens will be similar to Purchase or Sale Orders. They can be seamlessly integrated into a standard purchase/sale workflow to go as far as invoicing and payment.
Be careful, these transactions do not generate accounting impacts, so they will have to be linked to invoices/assets/payments, which will generate them.
With this new feature, NetSuite takes a big step forward and allows companies with unusual flows to manage new customized transactions as standard. Maintenance is simplified here!
Improvement of bank reconciliation functionalities
Every month, every week, or even every day you have to carry out your bank reconciliation. This step, whether it is integrated in the closing process or in your cash monitoring, is important.
Since several releases, the banking module has evolved to simplify its use. Release 20.1 brings a lot of new features, such as :
Possible exclusion of imported data from the To be Matched tab to facilitate your reconciliation. These incoming and/or outgoing payments are moved to a new tab created.
Customization of the reconciliation screen. From now on, you can move the columns, enlarge them.
Creation of new links facilitating navigation between related pages of this module.
Overall, release 20.1 seeks to improve the user experience. These improvements will bring you user comfort and productivity gains on bank reconciliation which can be felt as a tedious task.
We invite you to discover more by watching the video presentation of the module below:
Changes in the hierarchy of subsidiaries
Let's take the example of a company made up of a group of 3 companies, including a holding company. During the Netsuite implementation, these different entities were attached to the holding company as a "Parent Company". After two years the decision is taken to dissolve the holding company, which has a strong impact on the organization and hierarchy of your subsidiaries in Netsuite. The "Subsidiary hierarchy modification" feature allows you to modify the Parent Company and the hierarchy of your subsidiaries without the need for Netsuite support, as was the case in previous versions.
However, this modification, which is very structuring for your Netsuite environment, must imperatively be accompanied by a few precautions. The first of these is to activate this change in your Sandbox environment and validate the functioning of your transactions / data. Netsuite recommends, at a minimum, the following checkpoints:
Check your financial reporting => some existing financial statements could be permanently lost or provide incorrect results as a result of this operation.
Validate transactions on all your subsidiaries => some subsidiaries could be disabled
Control the consolidated / budget exchange rates => they could be irreversibly recalculated
Validate your customizations => some customizations/scripts might not work properly anymore
For more information on this functionality and its repercussions, b.workshop brings you its expertise and methodology in order to best address this issue.
A question or request? Our team of experts will answer you as soon as possible.